User experience: Car electrification is great!
Nikita* decided to replace his petrol engine with an electric battery a year ago. He has not had to regret it, and the number of kilometers that provide him with driving comfort is increasing every day. As Nikita himself says, he has made it through the first winter. This means that the quality mark is on.
What made you decide in favour of an electric car?
Work, kindergarten, school, my own and my children's hobbies – these are the reasons I wanted to enjoy every ride, to travel cheaply and in an environmentally friendly way. Affordable charging, free parking and other similar benefits spoke in favour of an electric car.
So how does winter affect driving?
In winter, the vehicle consumes up to half as much electricity. At the same time, energy consumption depends on the weather and your route.
So you need to be a skilled planner both in winter and in other seasons?
Exactly. Knowing how many kilometres you can drive with "a full tank of" electricity in one condition or another comes with experience. The same goes for the charging frequency. It has become a habitual part of everyday life for me.
How do you evaluate your user experience so far?
In hindsight, if I had read the manual properly, some of the errors would not have occurred. The pros definitely outweigh the cons.
My electric car offers a great driving experience: it is quiet and has a modern driver assistance system, it accelerates without delay and warms up in a few minutes in winter.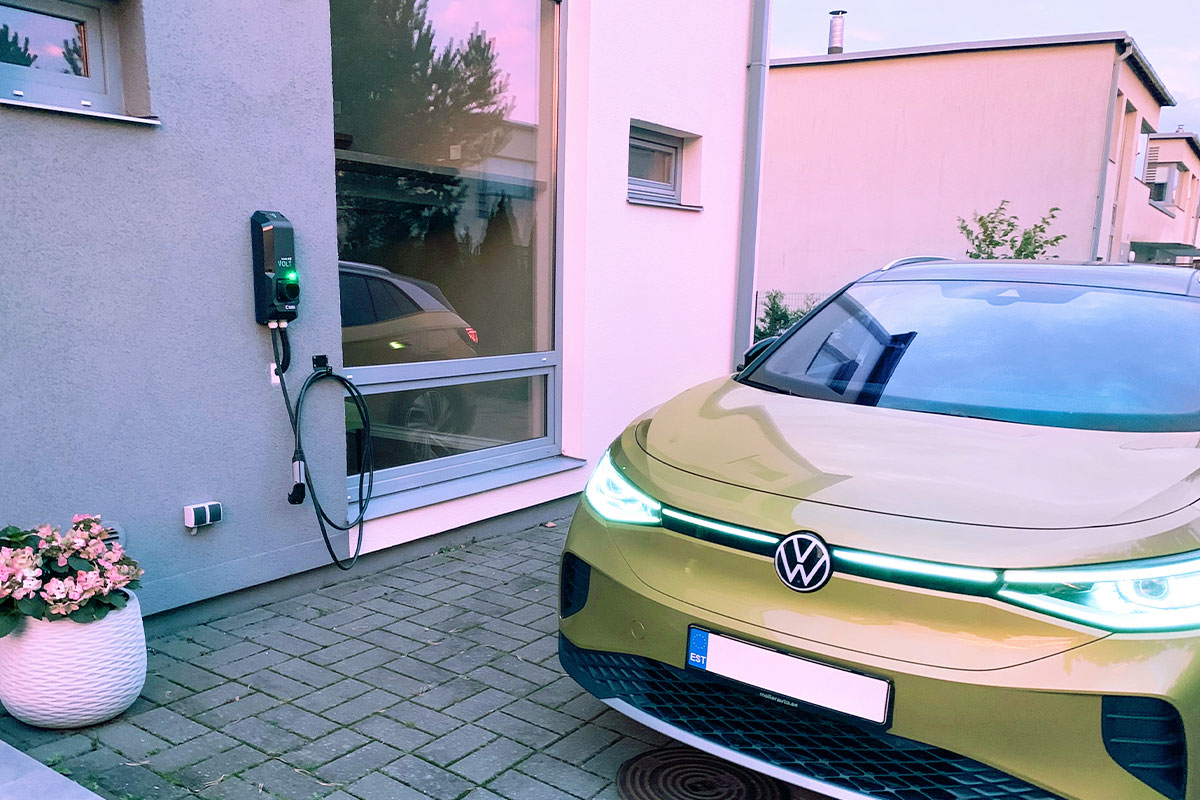 The charger installed on Nikita's house is compact, takes up little space, and gives him freedom in terms of finances and time
You have installed a personal charger for your home. Was it the convenience that spoke to you?
Above all, it was the sense of security that I can fully charge my car at any time and do less calculations and planning. Not to mention the queues at petrol stations or public charging stations, the time spent.
In addition, it is very gratifying to have a personal charger at a time when the exchange price of electricity is cheap. It may seem unbelievable at the current price jumps, but yes, during cheap hours, my electric car can be charged with green energy only for 3-5 euros.
How has your use of a personal charger been? Have you tried Enefit Volt's smart charging?
Charging is easy – just plug in and charge. Lately, I've been using the vehicle's own charging schedule to have the car plugged in at night. However, this solution is not as smart as Enefit Volt's smart charging, it does not take the exchange prices into account.
I am very much looking forward to when I can start using smart charging and save even more on electricity costs. It has been delayed so far because my charger did not have an internet connection.
As a user of an electric car and the infrastructure, what future solutions would you expect?
In general, today's infrastructure fully covers my needs. I have been able to charge my car everywhere without any worries.
I expect the app to show the chargers faster and there to be an indication of paid or free parking.
Speaking about dreams, charging could be wireless in the future, chargers should be everywhere, and I could be able to charge my car at a fixed rate under an Enefit Volt contract, regardless of location. Then I shouldn't think about charging at all.
I wish success to the Enefit Volt team to support and develop electro mobility. Car electrification is great!
*Surname known.