Enefit Volt's smart EV charging solution enables consumers to save up to 50% of electricity costs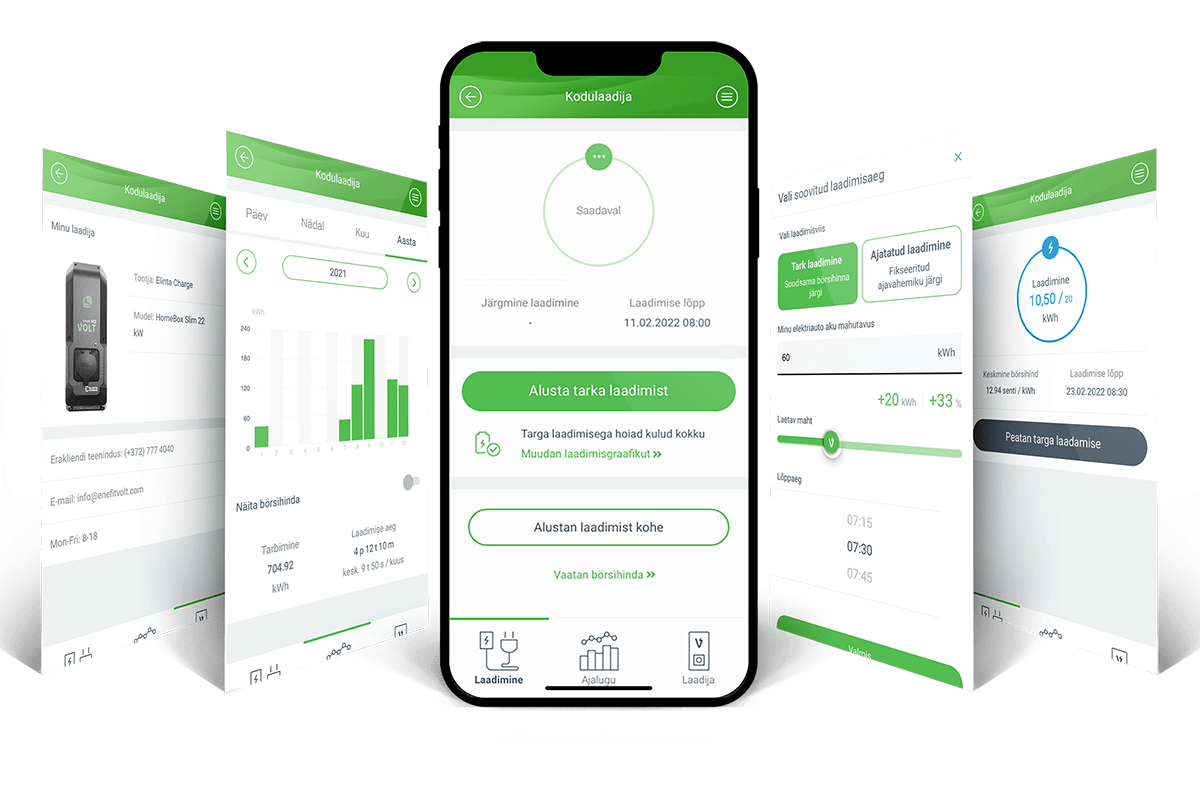 Enefit Volt, the largest provider of electric vehicle charging services in Estonia, has developed a smart application that chooses only the cheapest electricity for EV charging. The automated solution allows consumers to save up to 50% on charging costs, while reducing fuel costs by several thousand euros.
To use Enefit Volt's smart charging solution, which is compatible with all electric vehicles, all you need to do is open the application, enter the desired charging capacity and time of termination of charging, and connect the charging cable to your vehicle. After that, the app will select the most affordable hours for charging the vehicle and will control the charging process accordingly.
For example, if you use your vehicle daily for commuting to the city, and you leave and return home at around the same time each day, then the first time you use the solution, you will need to enter the desired charging capacity and the time of termination of charging. Then, next time you will only have to connect the charging cable, as your preferences are stored in the app.
According to Kert Pääbo, business director at Enefit Volt, smart charging makes owning an electric vehicle more affordable, more convenient, and easier, since it allows you to use electricity for charging when prices are lowest in just two steps: connecting and later disconnecting the charging cable. Everything else is handled by the application.
'Smart charging can make owning an electric vehicle significantly more affordable, as it allows you to save up to 50% on charging costs alone. It is clear that large fluctuations in electricity prices are not going anywhere anytime soon, but now our application is here to take over the task of tracking prices during EV charging,' Pääbo said. 'Most people's daily journeys are limited to 50 kilometres or less, and our smart home charger can easily restore the corresponding amount of electric power to your vehicle during hours when prices are lower. Given that the price of a litre of petrol is now close to 2 euros, you can easily spend more than 2,000 euros on fuel in a year even at an annual mileage of less than 20,000 kilometres.'
To use the Enefit Volt smart charging application, it is necessary to download the Eesti Energia mobile app, where a charger control function will appear automatically for customers who have ordered the smart charging service. The smart charging service can be used both for exchange price-based and fixed price-based electricity packages. In the case of the former, the application will use the exchange price, while in the case of the latter, it will activate charging during the night, when lower rates apply.
'The prices of electric and petrol and diesel engine vehicles will converge over the coming years, bringing tens of thousands of new electric vehicles into our power system. The only choice we have is to adopt a smart and even smarter charging solution, as this enables to avoid investments in a more powerful electrical grid, thereby saving money for all consumers,' Pääbo explained.
Choosing an electric vehicle allows consumers to make a significant contribution to a cleaner environment, because, at the average mileage, a single car releases nearly 2.5 tonnes (i.e. the weight of a small truck) of emissions into the environment each year. Using the smart charging service does not require making a large immediate investment either, as the full-service solution with maintenance included can be rented for an affordable monthly fee.
You do not need to be a contractual customer of Eesti Energia to use the service, although it will make life easier for you, as this way you can manage all of your energy services and monitor their costs in one place. Accessing Enefit Volt's public charging service still requires using a separate application.