Directly and honestly about electric cars and smart charging. Veiko Vahula's user experience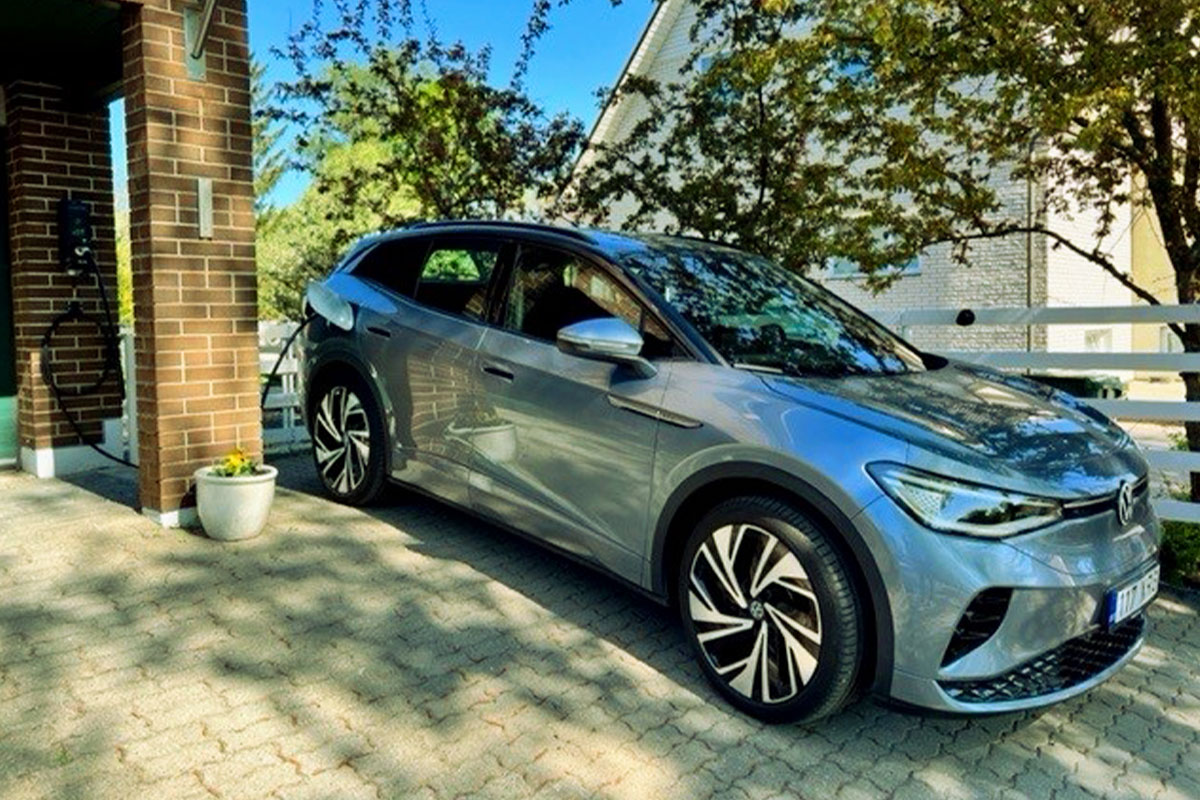 How long have you been driving an electric car and why did you decide in favour of e-mobility?
I leased a four-wheel drive Volkswagen ID.4 GTX in December 2021 as the second car in my family. I use the vehicle primarily for everyday trips to the city and the surrounding area.
I'm not trying to fix the world, nor am I an activist with certain views, a salesman for electric cars either. I was quite skeptical about electric cars, but I was thinking about three simple things when deciding:
My daily driving distance is short and my mileage is small, my previous vehicles did not even reach the correct operating temperature in the cold without additional parking heating.
Curiosity and desire to try something new. An electric car is like a smartphone on wheels that has various apps and other gadgets available, like toys for boys.
Before trying, I wouldn't have believed it, but the driving experience and dynamics of an electric car are completely unique in the city, on the road as well as on terrain with a trailer. Pure driving pleasure.
What habits have you had to change in connection with using an electric car, if any?
Most of all, prejudice and fear that the battery runs out very quickly. Actually, it doesn't. The control console displays the real condition of the battery and the estimated mileage quite reliably. At first, however, I tended to count the kilometres, but as my experience grew, I forgot about it.
In my opinion, it is reasonable to buy an electric car if you can charge it quickly at home. Charging only in public chargers is too cumbersome and time-consuming compared to refuelling with conventional fuel. In addition, fast and ultra-fast public charging is twice or trice as expensive as using home electricity.
I have used a public charger three times so far: twice for fun to check how various charging cards and apps work; once without urgent need, just in case. I have tried both Enefit Volt public chargers and the chargers in the We Connect app. Both were good.
At home, I use an Enefit Volt semi-fast charger that ensures a charging speed of 50 km/h. My daily mileage is between 15 and 25 km, so during the warm season, I charge my car once a week. More often during the cold season, as it is recommended to keep the battery between 20% and 80% charged. Charging in such small portions requires getting used to, as you do not add petrol to the tank by 3 or 5 litres.
I like that just connecting the cord to the charger is enough to preheat the car.
I remember how smartphones and smart watches were once despised because they had to be recharged every night. It doesn't seem weird anymore, and charging an EV is like powering just another smart device.
What is your monthly mileage? Would you dare to take your electric car for a tour in the Baltics?
My car has a 77 kWh battery, which allows me to go to all the necessary places with a single charge. My monthly mileage is about 750 km. It depends on the temperature and driving speed, but in winter and on motorways I can drive about 375 kilometres on a single charge, in warmer weather and in the city about 400 km. The car manufacturer has promised the car would cover up to 580 km in the city in the summer. This season is yet to come, I will be able to try. My family has a diesel car for longer trips.
I would dare to take longer trips within Europe with my electric car. Charging networks are quite good; information on the condition, capacity and prices of chargers is available in various applications. But that would be a bit of an adventure and an excitement, I don't need that much.
What made you decide in favour of an Enefit Volt charger?
My car dealer recommended me a semi-fast home charger by Enefit Volt, and after a little research, I felt that it could be a reliable partner. The cooperation so far has confirmed this feeling.
How satisfied are you with the smart charging option? Do you use it all the time?
I have experimented with and use smart charging in three ways. First of all, the car has a built-in smart charger that allows charging to be determined by departure time. Secondly, I have tried the Gridio Smart Charging app that controls charging at the best power exchange prices. Thirdly, I was surprised to discover that Eesti Energia's mobile app contains Enefit Volt as well. Since all my other personal and professional electrical matters are included in this application, I now use this one.
Since I buy electricity at a fixed price, it is enough for me to set charging times which I combine with the smart charging functions in my car.
I have tried charging with Enefit Volt's smart charging out of curiosity. Smart exchange price-based charging is elegantly solved there and it works.
Have you noticed the effect of charging on your electricity bills?
Of course, charging at home has an effect on your electricity bills. Last December, 100 km covered with my electric car cost me 1.15 euros. The price of electricity doubled this year, so now, using the night-time tariff, I pay an average of € 2.40 for the same distance.
Exchange prices would result in a bigger win, but charging might take longer and I would have to plan more due to price fluctuations.
In a calendar month, I charge an average of 260 kWh, so, about 30 euros have been added to my electricity bills. At the same time, I have noticed a significant reduction in my fuel bills: my monthly cost that used to be over 100 euros has now disappeared. Somehow, the second car in my family is starting to become the first one.
Would you recommend Enefit Volt chargers and smart charging to others?
Of course, but I don't recommend buying an electric car without a personal fast charger. Standard charging at home can be done and can work, but the charging time is still eight hours … It seems to me that a long charging time does not create much confidence or trust in electric cars.
An electric car could be considered as a second car by anyone who has two vehicles in their family. And who knows, as personal experience grows, fears and prejudices diminish, and technology advances, it is possible that for some families, an electric car can be the first and only one. Time will tell, as my five months of user experience is too short a time to draw far-reaching conclusions.
---