Charging an electric car is getting easier: check out the latest solutions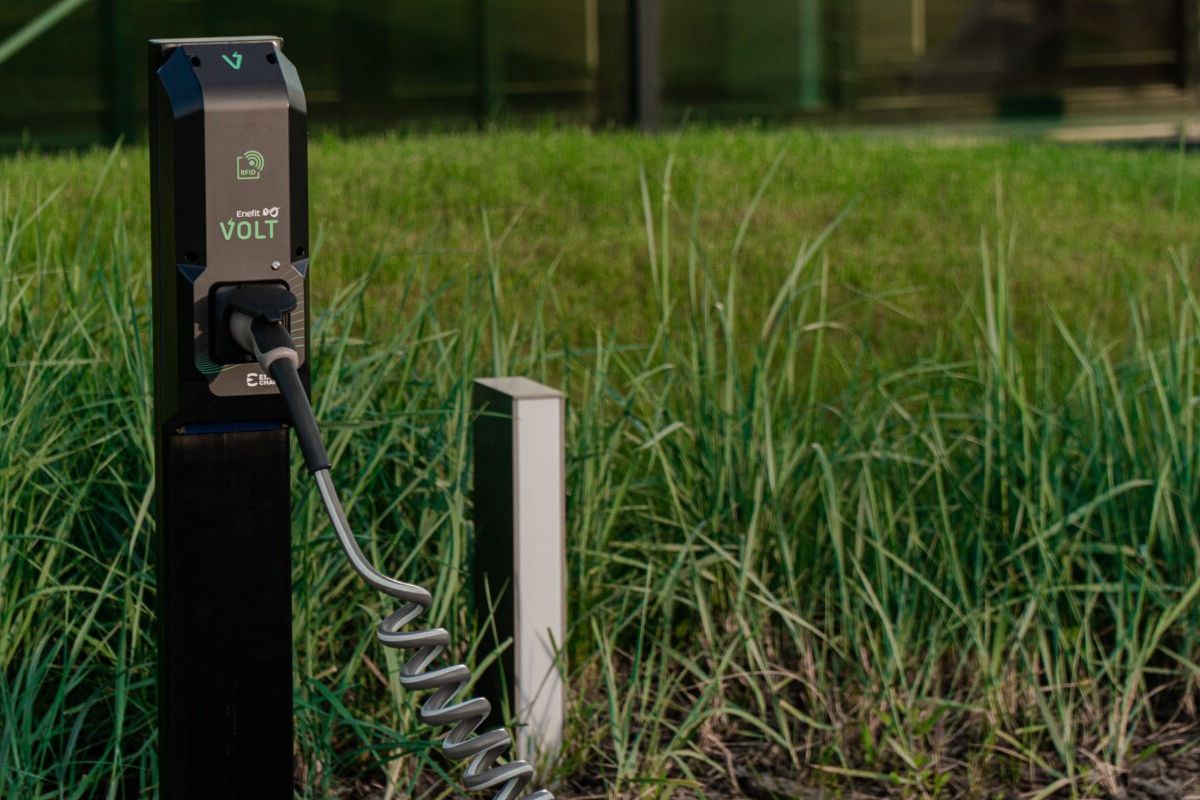 People who are thinking of buying a greener electric car no longer have to worry about having it charged somewhere. Enefit Volt offers easy and convenient charging of an electric car anywhere, be it at home, in a company or in a public space.
Although charging an electric car through a regular plug at home is the cheapest way, it is also the slowest and more hazardous solution. This is especially dangerous if electrical system of a house is outdated or unmaintained. Therefore, it is worth considering purchasing a special home charger.
With Enefit Volt, it is easy and convenient, because the customer gets a comprehensive solution from choosing the right charging solution to its safe installation. The charger can be bought or rented.
Certainly, many people wonder how much charging an electric car increases the electricity bill at home. It depends on how much and how often the car is charged. If we take an annual mileage of 15,000 km, an average electricity consumption of 20 kWh per 100 kilometers for the electric car, and we assume that the vehicle is charged mainly at night, then the additional electricity cost will be about 200 euros per year. In other words, only 200 euros are spent on "fuel" throughout the year.
Enefit Volt's website has a selection of home chargers and their properties as well as technical parameters. There you can find the most suitable solution for you. In addition, the ability to control charging via a convenient smart app will soon be added.
Charging station as a business card of the company
In addition to the possibility of charging at home, Enefit Volt has not forgotten about companies as well. The ability to charge an electric car is no longer a luxury for a few of chosen ones, but it will soon be as basic as offering coffee or tea to guests. The stylish and easy-to-use charging station is the business card of many companies today, and their amount is also on the rise.
For companies we offer chargers that are suitable for charging up to two cars at a time. There are both wall-mounted and stationery charging stations. If you want to install several chargers in your company, this does not automatically mean additional costs to upgrade the main fuse, because the service is smart.
The load between chargers is controlled in real time based on the number of cars loading and the current consumption of the building. This ensures the maximum possible charging speed at all times, using all available power without the risk of overload.
As a charging partner, Enefit Volt offers businesses a comprehensive service, which includes pre-consultation and advice, charging engineer site visit, preparation of a detailed design and price offer, professional installation by a certified electrician, and ongoing customer support and maintenance.
Annual "fuel consumption" 200 euros
Enefit Volt also has the largest electric car charging network, which includes nearly 185 charging points across the country, from Hiiumaa to Narva and from Tallinn to Valga. The company offers ultra-fast and fast charging for electric cars from Europe (CCS), Japan (CHAdeMO) and with universal Type2 charging standard. You will not have a problem loading any kind of electric car at our charging stations.
To use the service, you need to download the Enefit Volt app to your phone, which helps you find the nearest charger and pay for "refueling". When you reach a suitable charging point, you need to connect the cable to the car and start charging via the app. Payment is convenient – the amount you spend will be automatically deducted from your payment card at the beginning of each month.
The Enefit Volt network has chargers with three different speeds. Depending on how fast the charge is, the price of the service will also be determined. Let's give a simplifying example: a 20 kilowatt-hour charging with a semi-fast charger takes 55 minutes to charge and costs 4.4 euros. In contrast, with an ultra-fast charger, the same amount of charging takes only 7.5 minutes and costs 7 euros. 20 kilowatt-hours allow for an average electric car, such as a Nissan Leaf, travel nearly 100 kilometers under normal conditions.
As electric cars become more popular, the question often arises as to whether an apartment association has an obligation to install electric car chargers. In short, the answer is yes when it comes to new development. Initially, the developer and later the apartment association is responsible for fulfilling the requirement. So, if you are interested in an apartment building charging solution, contact Enefit Volt so we could make you the best offer.