Choose Enefit Volt's smart charger full-service rental and earn your monthly payment back!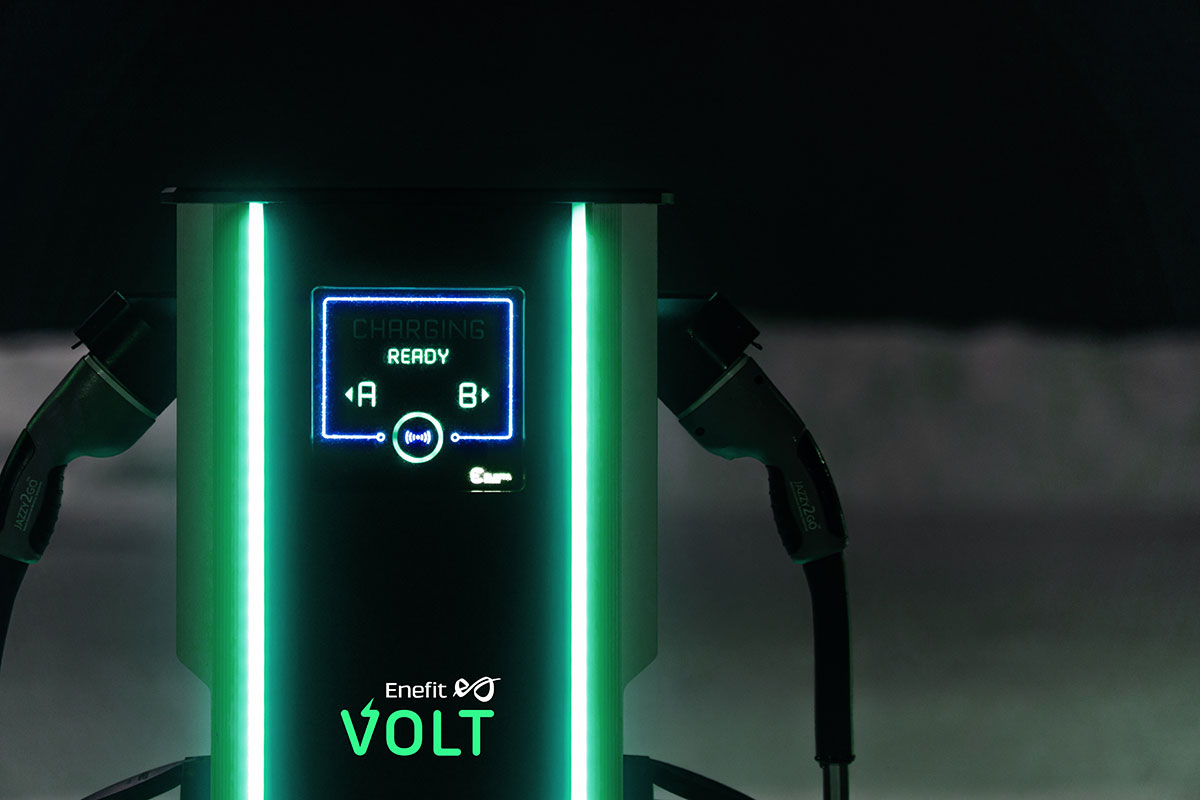 Buying a car means expenditure in any case. When choosing your first electric vehicle, you wonder how to charge it and how much chargers cost. Enefit Volt has a simple answer – our smart charger full-service rental combines everything you need in one monthly payment.
Choosing the right car tends to be a challenge, in which you have to find a balance between a suitable appearance, convenient accessories and price. Refuelling a car with an internal combustion engine is familiar to all drivers. EV-s can always be charged in a public charging network, but real savings and convenience are provided by a home charging option.
Thanks to Enefit Volt, you no longer have to worry about which charger to choose, how to install it, whether your house's electrical system is powerful enough for charging or when is the cheapest time to charge.
Enefit Volt offers a unique full-service rental where all possible issues are resolved in a one reasonable monthly payment of €29,99.
What is included in the full-service rental of an Enefit Volt smart charger?
Smart 22 kW electric car charger suitable for all electric cars
Enefit Volt's smart, reliable and simple charger enables charging up to 10 times faster than with an ordinary home charger. The charger can be controlled with a mobile application.
Standard installation included in the price
Full-service rental allows you to start smart charging at home without any initial investment. Chargers are installed by Enefit Volt's certified specialists.
Dynamic load management (DLM) with installation
DLM ensures the maximum charging speed without increasing the capacity of your home's electrical connection. The device directs only free power to charging, ensuring the safety of your electrical system.
Access to our smart charging mobile app
With our smart charging application, you can schedule your charging for the hours with the cheapest electricity. Based on our research, this can mean as much as 50 percent off your monthly charging costs, so, depending on your charging volume, you can save by your monthly rental payment. In the case of fixed-rate electricity, you can also save by scheduling and shifting your charging to a time when there is more renewable energy in the network. The app is easy to set up and has many features, including download history.
Future-proofing and upgrades
Enefit Volt constantly improves your charger and the mobile app with new features that are added automatically without any additional action for you.
Service and repair or replacement warranty
Our chargers are designed to be reliable, but if there's ever a problem, we will respond quickly. We will arrange a suitable time for our technician to come and repair or replace your electric car charger – whatever it takes to get everything running smoothly again.
---