Saaremaa received its first fast charging station for European electric cars in Kuressaare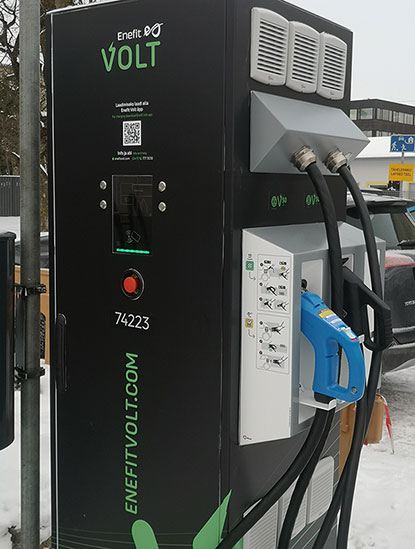 We installed a new Enefit Volt fast charger at Raekoja 6, Kuressaare, replacing the old ABB charger. We welcome all residents and visitors with electric cars to use the new charger! One car can be charged at a time, and both Japanese and European electric cars can be charged.
Today, Enefit Volt has a total of 7 chargers and locations in Saaremaa plus one charger at Kuivastu Harbour, Muhu, where electric car owners can charge their vehicles. We therefore cover the whole of Saaremaa, and considering the current number of chargers, the network is optimal and meets expectations.
The new Enefit Volt charger in Kuressaare is a fast charger with charging power of up to 50 kW. The charger is equipped with both CCS and CHAdeMO charging pistols (CHAdeMO is for Japanese and CCS for European cars). It is also possible to charge a Tesla by using the required intermediate adapters. It is the most modern and the first fast charging station for European cars in Saaremaa.
The main advantage of the new charger compared to the old one is that also European electric cars can now be charged quickly, i.e. with a power of up to 50 kW. Charging European cars was more than twice as slow with the old charger. The current conditions for Japanese cars will be maintained, and they will also be able to charge with up to 50 kW with the new charger.
The replacement of the Kuressaare charger was necessary because local consumption is high. In addition, the new charger allows tourists to charge their electric cars more quickly and conveniently, while offering the opportunity to explore the sights of the city of Kuressaare at the same time. They can comfortably drive around Saaremaa with a fully charged battery and get to know other sights as well.
According to Jaanus Tiisvend, Chairman of the Management Board of Enefit Connect that develops the Enefit Volt charging network, the team is constantly analyzing the needs of customers. "Based on this, we will soon, hopefully before the summer, increase the connection capacity of the charger at Olerex, Kuressaare, so that car owners can charge their electric cars there even faster. As the development of electric cars is accelerating, this creates a need to continuously develop the charging network, also in Saaremaa. Therefore, we will continue to monitor the developments!" Tiisvend said.
Enefit Volt, which celebrated its first year of operation on 11 February, is Estonia's largest public charging network for electric cars with almost 180 charging stations all over the country.
In addition to public charging stations, Enefit Volt provides charging solutions for homes and businesses. There are more and more hotels and cafes that stand out for the convenience of their customers and want to offer electric car charging to their guests in the immediate vicinity of their businesses.
The charger selection assistant on Enefit Volt's website www.enefitvolt.com helps you choose the right charging solution for your electric car.