Simplicity and savings – both speak in favour of home chargers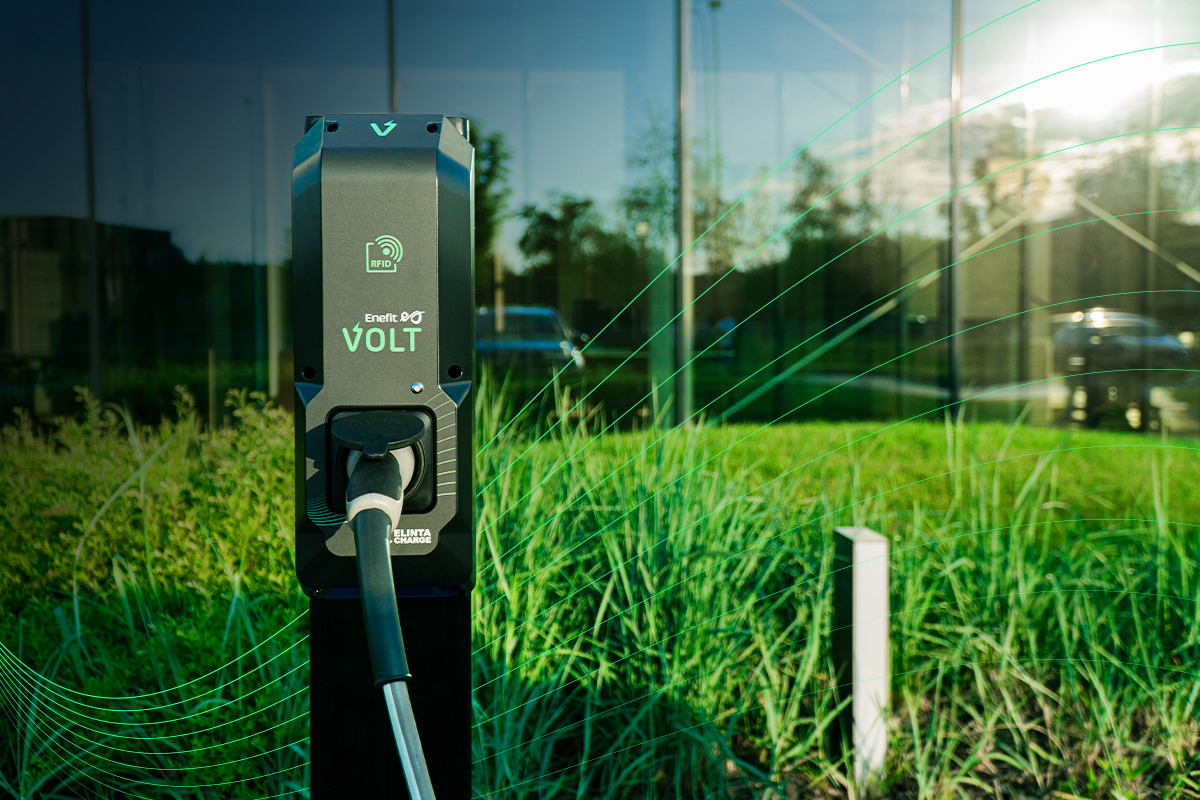 If it's your own, it's your own. Not to mention time, money and personal comfort. An Enefit Volt home charger is an electric car owner's best assistant, the meaning of which is hard to overestimate or underestimate.
Prefer home charging to public charging because …
… it saves time and money.
Charging an electric car takes longer than refuelling. By purchasing a home charger, you no longer have to spend minutes or hours "feeding" your car. Your vehicle charges when it is parked or otherwise idle.
Public charging follows a fixed rate. At home, however, you can select a suitable electricity package and adjust your charging times accordingly. If you buy electricity from the power exchange, Enefit Volt's smart charging can find the hours with the best prices and only charge your car at those times. With a fixed electricity package, you can always charge your car at night when the electricity and network tariffs are cheaper.
The biggest advantages of Enefit Volt are …
… smart charging, ability to take into account your home electricity consumption, and complete solutions.
Smart charging, as already mentioned above, chooses the best time to charge your electric car. The convenience is that you don't have to reconfigure your app every time, once is enough, and the app remembers your preferences.
The charger must keep pace with the rest of your household electricity consumption. Otherwise, the fuses may blow. Enefit Volt offers a flexible load control device that can be connected to the electrical panel, supplying the car only when the rest of the building's electricity needs are covered.
We want you to feel carefree with us. This is why we also offer full-service rental: we keep an eye on your charger, service it on time, and as newer technology becomes available, replace it. 2/3 of our customers have already decided in favour of full-service rental.
We sell ABB or Elinta chargers because …
… they are smart enough.
The ABB charger is simple and affordable enough to meet modest needs. However, it is not integrated with the Enefit platform. This means that charging cannot be scheduled for hours with lower exchange prices, and we cannot control it remotely in the event of any errors.
The Elinta charger is compatible with our system:
charging can be scheduled for less expensive hours for both fixed and exchange price packages,
if necessary, we can take remote control of your charger and offer the fastest solution to the problem.
We do not sell chargers for regular sockets …
… because they can do more harm than good to your electricity system. If you do not have enough amps, one phase will get a very heavy load and the fuses will blow in your electrical panel. Old wires may not be able to withstand the load, causing a risk of fire.
To make the purchase of a home charger even smoother, …
… we recommend that you consider the following questions:
Is there room for additional fuses in your electrical panel? If it is difficult for you to figure out, our specialists can evaluate the contents of your electrical panel by photo. Just take a picture of your panel inside and out, and send it to us.
What is the distance from your electrical panel to the desired location of the charger? Up to 10 m of cable is included in the price of standard installation.
Is future-proofness important to you? If so, then a 22 kW charger would be the best choice. This is due to the fact that electric cars are becoming more powerful.
Can the cable be routed along the wall or should it be dug into the ground? If digging is needed, what is the soil like? Again, if it's hard for you to evaluate, make a small video and send it to us.
1. Choose the best charger and send us an inquiry at enefitvolt.com.
2. Our sales engineer will receive your inquiry and contact you within three business days to find out more. If all goes well, he will make you an offer. In case of a non-standard solution, our engineer will review the technical description, contact you and visit the site if necessary.
3. You have plenty of time to view the offer. After accepting the offer, our specialists will agree with you within two business days when they can come to install the charger.
4. We will install your charger within 14 business days.
5. Your Enefit Volt home charger is all set up and you are the master of your time and money again.
---