From user to user: Tips that make electric cars convenient and enjoyable to use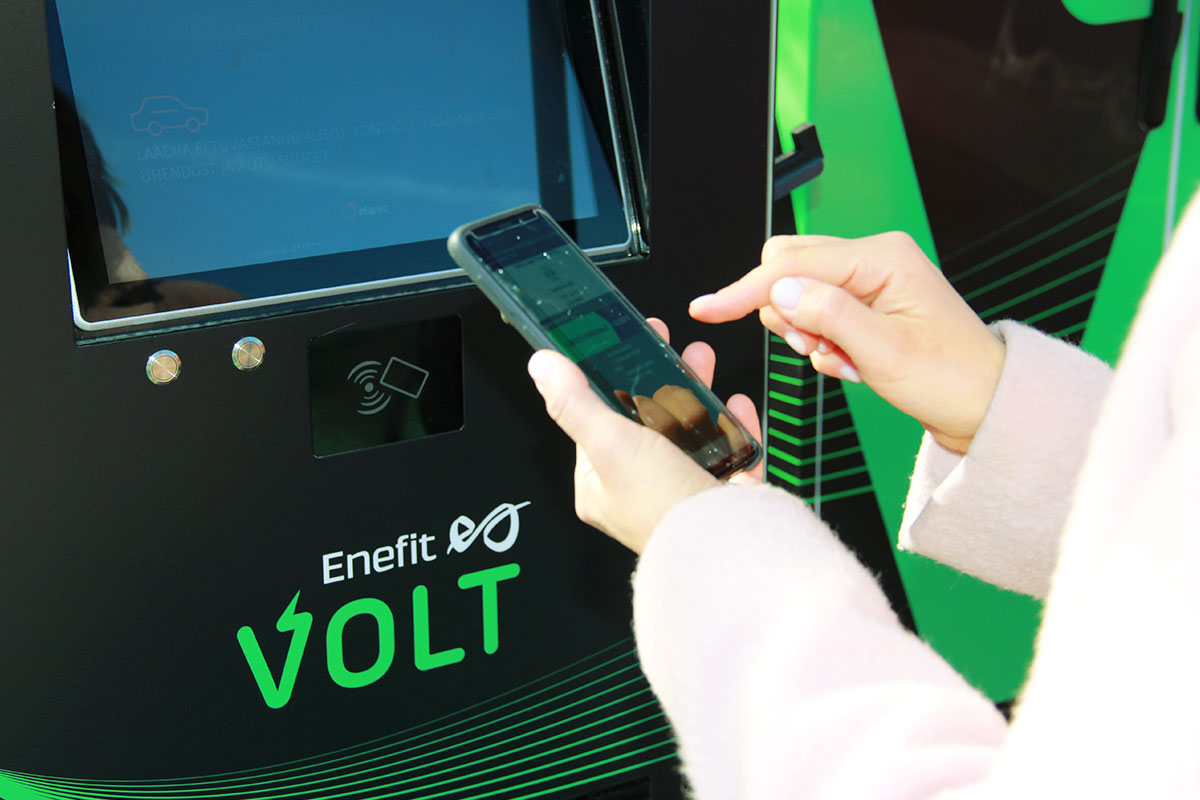 Some people jokingly say that electric car users should grab their grandmother's knitted woolen coat and gloves when they go for a drive, so that they don't get cold while waiting for yet another charge at the roadside. Warm clothes are very much needed in winter, but users of electric vehicles certainly do not need them more than others. However, our customers have put together some tips that would be useful to others.
In August, we asked Enefit Volt users for feedback and their experience about using an electric car. We received a lot of great experiences, useful tips and other wisdom that we would now like to share with everyone else. Below are also recommendations for users of the public charging network on good practices to keep in mind for shared chargers.
It is enough when the battery is 75% charged
Battery charge has been a lively and heated debate among electric car users. It is a fact that from 80%, the charging speed of fast chargers significantly drops - this is not to bully the drivers, but to save the battery. Therefore, first of all, there is no need to worry about the battery being completely full when you start driving in the morning.
"When planning the range of the car, it must be taken into account that the recommended charging limit is 80%. Since when the battery is less than 10% charged, the car starts to annoyingly remind you of the need to charge, then the actual driving range in normal use is about 70% of the maximum." Nikita
"Don't wait on the roadside to charge your car when the battery is 75% full." Ranno
Take the necessary cord with you if needed
As we know, an electric car can be quickly charged with the European CCS or Japanese CHAdeMO plug. Regardless of the fast charging standard, most electric cars have the possibility to use AC – the Type2 slow charging. It is mainly used at home, but also in public chargers. For example, the Enefit Volt network has 150 CHAdeMO/Type2 chargers, in addition to several separate Type2 chargers. In most cases, similarly to elsewhere in Europe, they are not equipped with a charging cable. Therefore, it is worth taking the cable with you. Especially if you know that you may need to use this particular charging method.
"You must always have a Type2 cable in your car. At most charging stations, a European car cannot be charged without it." Madis
Unfortunately, most accommodation establishments do not yet have their own charging stations, but fortunately their staff are generally welcoming and electric cars can still be charged. If you know that this may be the case, bring an indoor charger.
"Nissan Leaf. The driving range is 150-190 km. Always take an indoor charger with you when you leave the city. In the absence of a fast charger, it is possible to connect the car to the mains overnight and take some time off." Ewa
When you go for a test drive
When choosing a new vehicle from the car shop, you are usually allowed to take it for a test drive for an hour, during which you must comprehend whether it is the right choice for you. An hour is often not enough. Especially for those vehicles where there are many useful and exciting accessories that you would like to try out. Besides, you may not get the right feeling of driving in the city, on the road and between them during that hour. Sometimes you may be able to test an electric car for longer.
"If you go for a test drive, it usually lasts 1 hour. If you are able to convince the dealership that you definitely want to buy an electric car, then you may get the car for a full day (9:00-16:00), like I did. I drove 325 km and had 125 km left. The average electricity consumption was 16.8 kWh (Skoda Enyaq iv80)." Märt
Use smart assistants, but remember to pay attention
Modern passenger cars, especially electric ones, are more like smart electronic devices than machines. Despite all kinds of detectors, sensors and processors, you must check everything with your own eyes. Therefore, you should always check that charging has started and works as desired.
"After starting to charge your car, whether at home or at a charging station, check if the charging process has started. It is not uncommon for the charger to be connected to the car but the battery not being charged. It is good to notice such a situation immediately so that precious time is not lost. In most cases, all you have to do is to reconnect the charger." Vlada
Smart apps are the smart friends of a smart road user. Or other smart road users. For public charging, the Enefit Volt app with its 24-hour customer service always helps. You can also get good advice from the Facebook group "Elektriautod Eestis".
"Enefit Volt's customer service and their mobile application support worry-free driving! I also recommend joining the Facebook group "Elektriautod Eestis". I have received operative information from there about charging options outside the so-called official charging network or if I have been in trouble for some reason." Triin
"Preheat your cabin (in winter) or cool it down (in summer) before going for a drive by using the mobile app or the car's "Calendar". It is especially good if you can do this while the car is wired, so as not to waste the battery for air conditioning while driving." Triinu
Get to know your car
In extreme weather conditions, and especially if you are only getting to know your electric car, you may sometimes need to be careful. If you already feel more confident about your vehicle and yourself behind the wheel, you can rely on your experience.
"New users of electric cars should be aware that in the event of a heavy shower or slush, the range may be reduced by a third. If you have 70 km left to go and the car shows that you can drive another 100 km, it may happen that you will not get there when driving through the slush. Such road conditions can occur a few times a year. Be prepared to recharge just in case: it is better to charge in a fast charger for 5 minutes than to risk with the battery running out." Arnis
"For longer trips, plan a little extra time (e.g. drink coffee, eat ice cream), and it's good to have a charging option at home. Then you will have no reason to go back to driving a car with an internal combustion engine." Laivi
Measure the charging with a stopwatch
When talking about charging an electric car, time is measured in minutes and hours. If you can use a charger at home, at work, or you are going to the store or cinema for a longer period, then all you need is a stopwatch.
"Charging an electric car takes 20 seconds. 10 seconds to push in the cord in the evening and 10 seconds to pull out the cord in the morning." Janek
And now to the good practice of the use of public chargers
Park your electric car in front of the charger only during charging and free up the space when charging is complete. If possible, recommend the same to those who violate this unwritten rule. This will make us much more content as electric car users
Use the charging station prudently and put the charging cable in its place when you leave.
Charge no more than 80%
Do not park at the charging station if you are not charging
Do not leave the charger locked for a long time when the battery is full. Take into account that you are close to the car when charging is about to end, pause whatever you are doing and move your car elsewhere, because there may be few charging options, especially outside Tallinn, and someone may desperately need that charger.
Any ideas you would like to share? Send them us by e-mail at info@enefitvolt.com. If you want a charger for your home or business, to rent or to buy, then see our website www.enefitvolt.com.