Enefit Volt opened a new ultra-rapid electric car charger at the Järve Circle K service station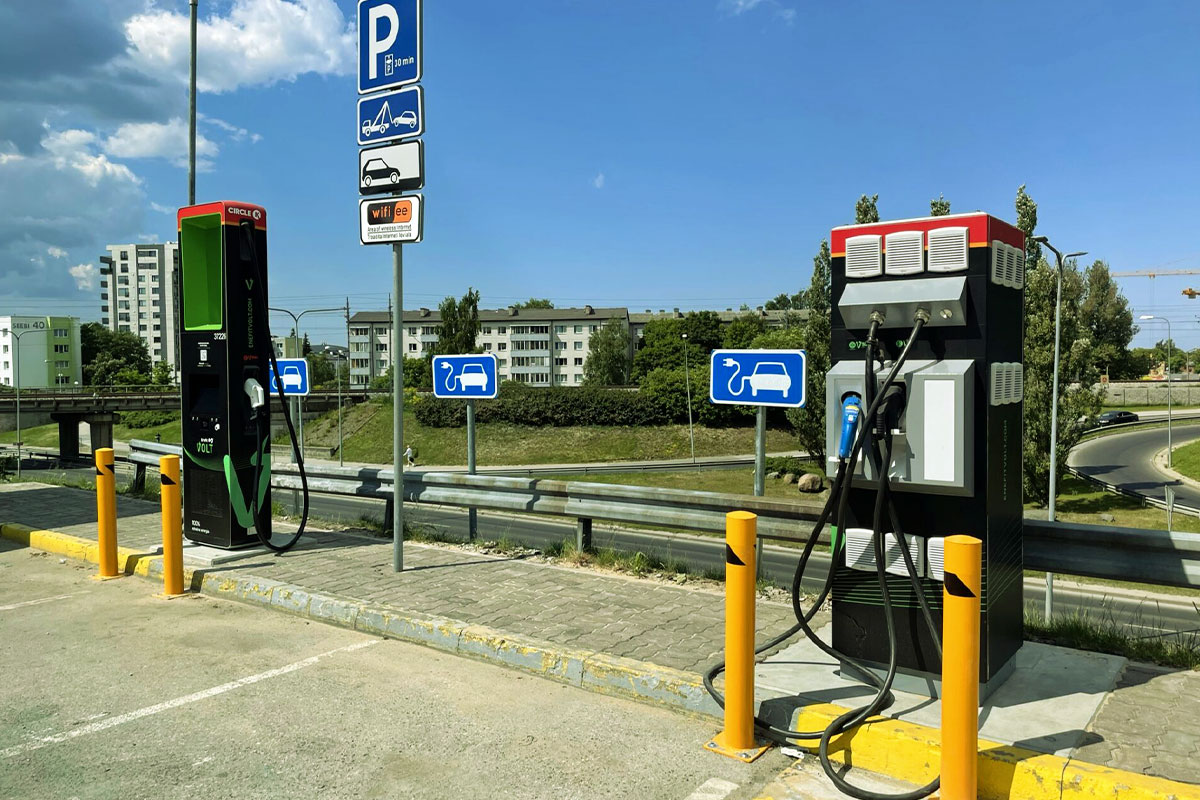 Enefit Volt, owner of Estonia's largest public electric car fast-charging network, installed a new ultra-rapid electric car charger in cooperation with Circle K at its Tallinn Järve service station. The charger has been open for service since the beginning of June.
The new ultra-rapid charger at the Järve Circle K service station has a capacity of 161 kW – it provides a maximum charging power of up to 161 kW for cars with 400V and 800V batteries, depending on the car model. In addition to the ultra-rapid charger, customers can use a universal 50 kW rapid charger at this charging point. Both charging stations allow to connect electric cars with European and Japanese charging standards.
"We are consistently working to expand and renew the Enefit Volt charging network, and we want our charging options to be always affordable, fast and close to electric car owners. The new location in the Enefit Volt charging network at the Järve Circle K service station contributes to this, as we are located where car owners are already used to going. I hope that our current and new customers adopt the new location well," said Kert Pääbo, Business Development Manager at Enefit Volt.
The Järve Circle K service station is a new location in the Enefit Volt charging network. The latest ultra-rapid charger is already the fourth in a row that Enefit Volt has installed in Estonia over the year. In addition to Järve, ultra-rapid chargers are located at the Tallinn Haabersti and Laagri Circle K and Tartu Aardla Olerex service stations. Enefit Volt and Circle K are planning new chargers for several other service stations across Estonia.
"In terms of reducing the total energy of vehicles with internal combustion engines and the transport sector, it will be most effective for Estonia to contribute to the introduction of electric cars and the development of a charging infrastructure. Electric transport is the transport of the future both in Estonia and all over the world, as the use of renewable electricity provides about 50% energy savings per kilometre. That is why we are vigorously developing a network for fast charging of electric cars in Estonia, in order to facilitate a faster transition to electric cars," said Kai Realo, Director General of Circle K.
She added that as all major car manufacturers are massively investing in the electrification of their car fleet, electric vehicles will become much cheaper and more durable in the coming years, which is why the number of electric vehicles is expected to grow rapidly on the roads of Estonia. "The price of lithium-ion batteries has fallen tenfold over the last 10 years, and if this trend continues, the prices of electric cars and cars with internal combustion engines will be equal in about 5 years, giving the final reason to prefer an environmentally friendly electric vehicle," Realo explained.
Estonia's largest fast-charging network for electric cars – Enefit Volt – currently consists of 185 public chargers across Estonia and is constantly expanding. In addition to public charging options, Enefit Volt provides charging solutions for homes and businesses.