Elinta Charge manufactures future-proof electric car chargers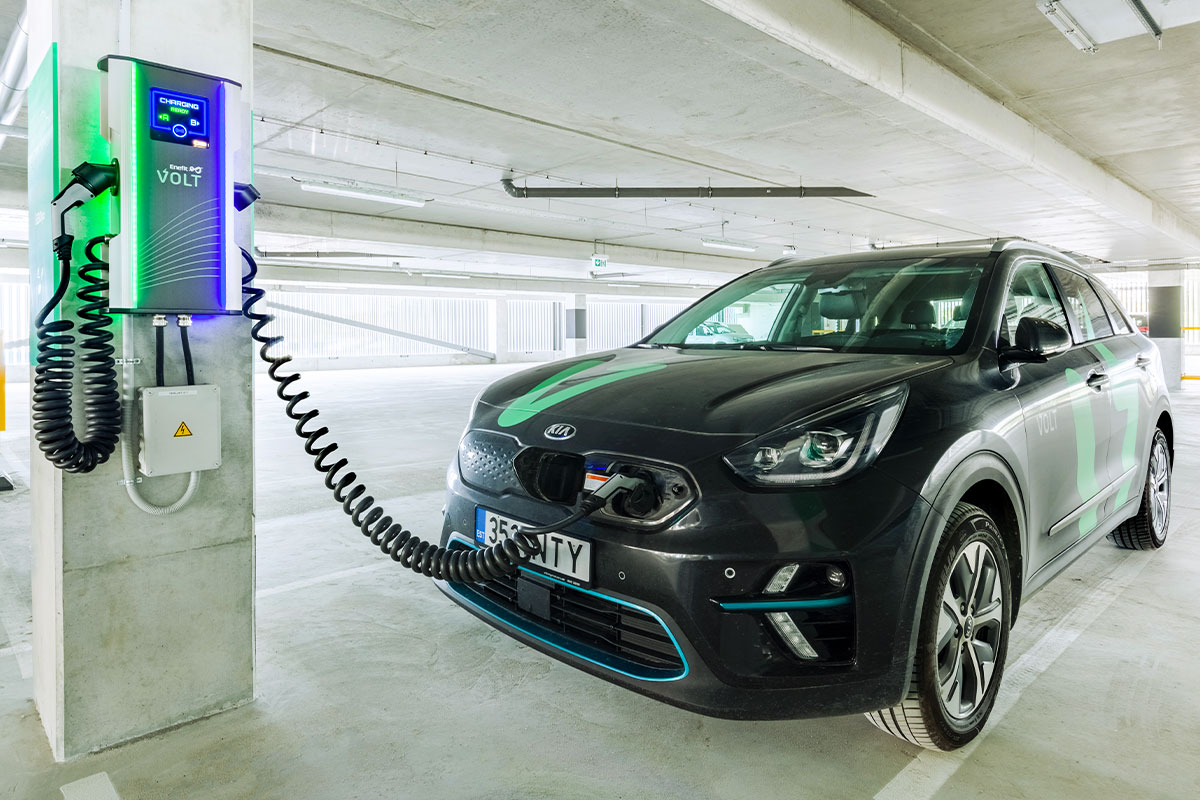 The aim of Enefit Volt is to provide smart and future-proof charging solutions, which would be impossible without high-level chargers. That is why we are working with Elinta Charge, a Lithuanian manufacturer with international outreach, whose chargers have won prestigious awards.
Over the next 10-15 years, tens of thousands of electric cars will be added to our fleet, which means we need to not only charge them quickly and in public hubs, but in the car parks of private residences, apartment buildings, commercial and office buildings and in many other locations where people park their cars for a longer period of time. From the perspective of the battery health of electric cars and the network, it is not wise to install powerful fast or ultra-fast chargers in these locations, but rather semi-fast chargers of up to 22 kW.
Chargers have to be compatible with the environment
As chargers will become an integral part of the urban environment, Elinta Charge focuses on three key areas in order to ensure the sustainability and resilience of the charging infrastructure. First of them being design. Urban planning does not only take into account the appearance of buildings, but also details from park benches to lamp posts. They need to visually match the urban space and hold up to intensive long-term use.
These aspects are also born in mind by Elinta, whose flagship CityCharge V2 won the reputable design award Red Dot in 2018. The robust anodised aluminium casing of the charger is resistant to both UV rays and vandalism. Its outstanding LED bars, which indicate the charging status, and dark LED display ensure ease of use.
According to Aiste Mudenaite, marketing manager at Elinta Charge, the design award proves that the charger will stand the test of time and look fresh in its surroundings even after many years.
"The beautiful design is backed up by state of the art content," said Mudenaite. "Our engineering solutions are smart and the components come from the best international suppliers, such as Siemens, Mennekes, Hydro and Phoenix Contact. Chargers are objects of the Internet of things. The Internet makes it possible to provide various smart solutions, such as dynamic load management, power balancing and the creation of additional revenue opportunities like granting the charger party for public use."
Chargers have to be convenient, functional and durable
Enefit Volt has been working with Elinta Charge since 2020, when they started developing a smart charging service. According to Kert Pääbo, business development manager at Enefit Volt, Elinta's chargers have been well received by customers of the charging service in Estonia, Latvia, Lithuania and Poland. A similar understanding of a convenient and forward-looking charging service has made the development of new solutions efficient.
"The aim of Enefit Volt in the development of the charging service is to make it as simple and smooth as plugging in the most ordinary device," said Pääbo, "but in a way that, in addition to convenience, maximises the benefits customers get from using clean transport. A charger is a device that people use every day. It has to be functional, durable and be tailored to the environment. Elinta Charge meets all these requirements."
Elinta Charge exports their chargers to nearly 30 markets, primarily in Europe, including Scandinavia, the Baltics, France and Italy, but also to Australia and Iceland. More than 100 Elinta Charge stations have been installed on the French island of Corsica, where the CityCharge V2 charger is primarily used in hotels and restaurants, first and foremost because of the possibility to pay with a contactless bank card.
In total, Elinta Charge offers 10 configurations of AC chargers for private and commercial use.
Elinta Charge used Enefit Volt branded charging station at their demo area at Energy Tech Summit 2022.
---