We launched the first ultra-rapid charger in Tartu!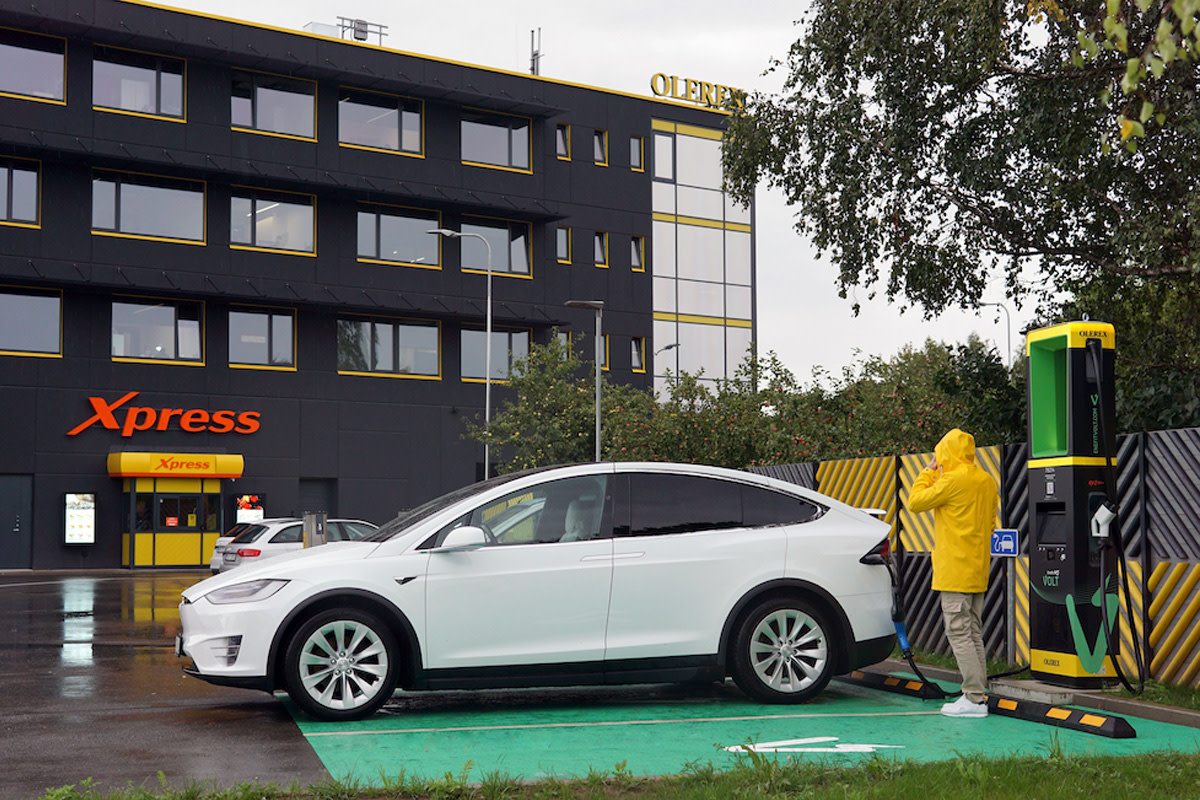 Enefit Volt, a provider of electric car charging solutions, in cooperation with Olerex, Estonia's largest fuel retailer, launched the first ultra-rapid charging point in Southern Estonia at Olerex Aardla service station in Tartu.
Depending on the car, the Enefit Volt ultra-rapid charger installed at the Olerex Aardla petrol station (176 Võru Street, Tartu) can charge a range of 100 kilometers in less than 10 minutes, making the use of an electric car easier and more convenient than before.
According to Sten Argos, the Director of New Value Creation at Eesti Energia, a convenient, fast charging network covering the whole of Estonia will enable the rapid increase and breakthrough of electric cars in the field of clean transport in the coming years.
"The electric car is an environmentally friendly and smart choice already today, because Enefit Volt's public charging network is growing every month, and in addition, we will start offering a smart home charging service in the near future," said Argos. "By making charging options broader, faster and more convenient, we are giving the electric car users the assurance that affordable, rapid and green charging is always nearby. Cooperation with partners like Olerex will allow us to bring ultra-rapid charging to places people have already got used to and thus accelerate the change of habits in the green direction."
Anton Šafrostin, Olerex's Fuel Purchasing and Logistics Manager, noted that Tartu and Southern Estonia in general are taking a long step towards a greener future with the first ultra-rapid charger. "The superfast charger means comfort for current electric car owners, confidence for future customers and for us, the next stage in the ever-expanding sale of so-called car electricity," said Šafrostin.
Argos added that when choosing new locations, Enefit Volt is primarily based on customer expectations and feedback, and the demand for expanding loading facilities was clearly present in Tartu.
"Tartu has the potential to become a leader not only in Estonia, but in the entire region in the development of environmentally friendly urban transport and city planning, and green choices are clearly reflected in the mindset and choices of Tartu citizens. Hopefully, also more and more so when choosing a car," said Argos. "Enefit Volt's task is to make the use of clean transport as easy as possible in order to reduce the constantly rising emissions in the transport sector as vigorously as we have done it in the energy sector. Eesti Energia is producing more green energy than ever before and this must reach our roads as well."
Enefit Volt, the largest fast charging network for electric cars in Estonia, includes nearly 180 chargers, to which both new charging stations and chargers will be added during the year. In the Enefit Volt network, vehicles with both European (CCS) and Japanese (CHAdeMO) charging standards can be charged, and universal Type2 charging can be used.
The sales network of Olerex, Estonia's largest fuel retailer, includes 97 full-service stations and filling stations across Estonia. Out of petrol station chains, in addition to liquid fuels, Olerex is also the largest seller of electricity, and charging points for electric cars are located in fourteen Olerex service stations across Estonia. Founded in 1994, the company is based on 100% Estonian capital and employs nearly eight hundred people.