Circle K and Enefit Volt opened the first joint ultra-rapid electric car charger in Laagri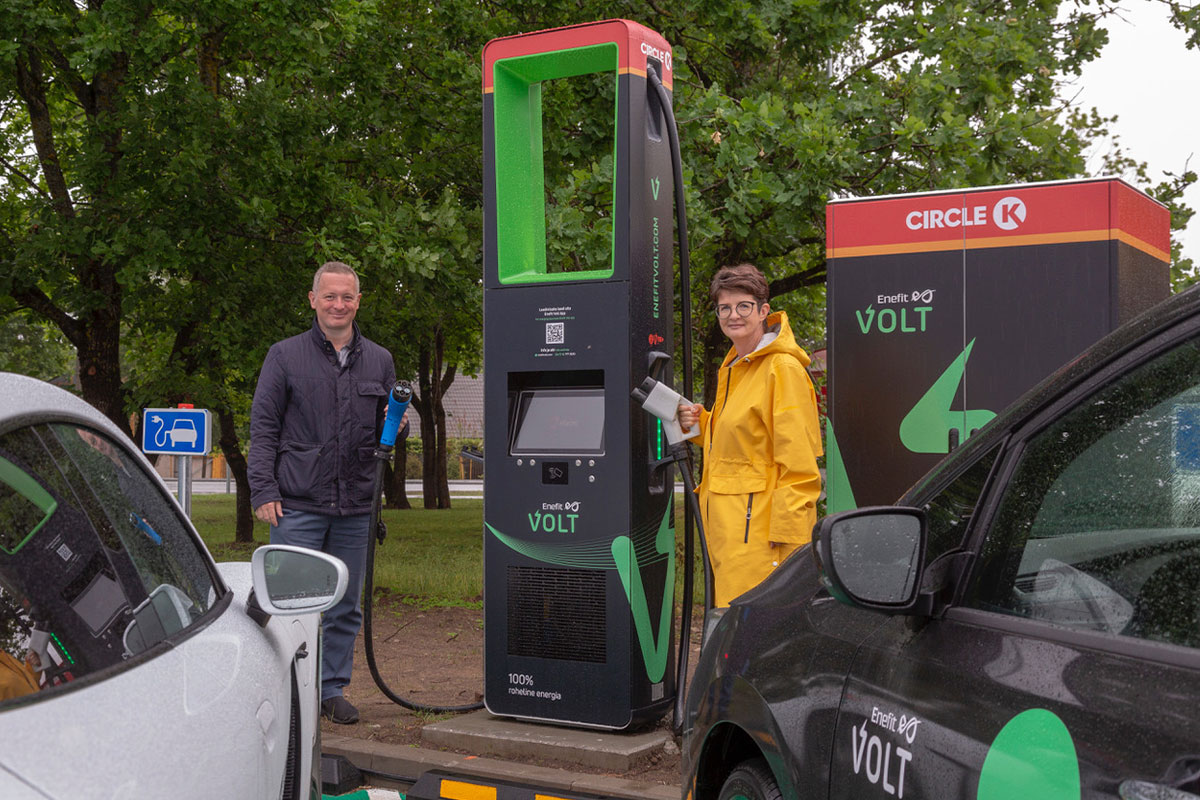 Today, Estonia's most preferred motor fuel retail company Circle K and the largest public electric car fast charging network Enefit Volt opened the first jointly established ultra-rapid charging point in the Circle K Laagri service station, which allows you to charge a car for a ride from Tallinn to Pärnu in just a few tens of minutes.
"Electric transport is proving to be the transport of the future both in Estonia and globally. Therefore, we also want to develop a fast charging network for electric cars at Circle K service stations in order to encourage greater use of electric cars," explained Kai Realo, General Manager of Circle K. She believes that in addition to state subsidies for the purchase of electric cars, the introduction of electric cars in Estonia will be accelerated by an extensive network of quick chargers and technological developments in electric cars, such as making batteries more durable.
With the Enefit Volt ultra-rapid charger installed at the Circle K Laagri service station, depending on the car, the battery can be charged in 15 minutes with the necessary amount of energy to drive to and back from Pärnu, which will make using green energy easy and convenient as the number of more powerful electric vehicles on our roads will be increasing. In addition to the ultra-rapid charger, customers can also use a universal fast charger at the charging point.
According to Margus Vals, Member of the Management Board of Eesti Energia, the existence of a convenient, nationwide, comprehensive and fast charging network is a key factor in the breakthrough of clean electricity transport, which is why Enefit Volt monitors customer expectations and feedback when choosing new locations.
"By making charging options broader, faster and more convenient on the Enefit VOLT network, we are giving the electric car users the assurance that affordable, fast and green charging is always nearby. Cooperation with partners will allow us to bring ultra-rapid charging to places people have already got used to and thus accelerate the change of habits in the green direction," said Vals. "In addition to proximity and speed, an important strength of Enefit Volt's quick charging network is ease of use, an important part of which is our smart device application. Our network suitable for all types of electric cars is growing every month, removing all obstacles in the way of choosing an environmentally friendly electric car."
Kai Realo, General Manager of Circle K, believes that the purchase of electric cars is expected to increase sharply in the next few years, as all car manufacturers are investing en masse in the electrification of their car fleet. "Speaking of electric cars, many Estonians remember the first small Mitsubishi vehicle to be widely used in Estonia, which has largely shaped the understanding of electric cars. Today, however, the model range of electric cars is much wider and their reliability is also many times higher, because today the average electric car can drive 300-400 kms with one charge, in other words, from one end of Estonia to the other," explained Realo. She hopefully added that in the future, she would like to see Circle K service stations in Estonia, which are dominated by fast electric car chargers, such as Circle K Norwegian stations, of which many today only serve electric car users.
Margus Vals, Member of the Management Board of Eesti Energia, noted that the energy sector has made Estonia the fastest emission reducer in Europe, although transport emissions are constantly on the rise. "Thanks to smart solutions, we also support making traffic cleaner and encourage the use of green energy. The electric car is a reasonable choice today and normality in the coming years," added Vals. "In addition to the numerous new ultra-rapid and fast chargers that will be added by the end of the year, Enefit Volt will also delight its customers with home charging solutions in the coming months."
In addition to the Laagri service station, Circle K and Enefit Volt are planning to open three charging points equipped with ultra-rapid chargers at Õismäe, Katusepapi and Järve service stations this year. "We are constantly monitoring the growing demand for electric car charging options and we are ready to respond accordingly. All our customers must be able to refuel at the Circle K service station, regardless of whether they have chosen a vehicle running on liquid fuel, liquefied petroleum gas or electricity," said Realo, adding that as a significant market player, Circle K will definitely have an effect on whether and how quickly Estonian consumers will start to prefer green energy vehicles.
Enefit Volt, the largest fast charging network for electric cars in Estonia, includes nearly 180 chargers, to which both new charging points and chargers will be added during the year. In the Enefit Volt network, vehicles with both European (CCS) and Japanese (CHAdeMO) charging standards can be charged, as well as universal Type2 charging can be used.